Over the past six months, the team at 151 Days has been perfecting the details at their Redmond location.
Their slogan, "good things take time," is a truism rooted in the traditional culinary arts of China. These methods use patient cooking to emphasize the natural flavors of fresh ingredients. After a successful twenty year culinary career in Beijing, 151 Days owner, Joseph Guo, upholds these traditions with the highest standards. At the same time, he's taken extraordinary measures to create something truly unique. While opening 151 Days, Joseph's commitment led to the unexpected opening of his own farm. A private farm where he raises a special breed of chicken, central to the restaurant's menu. The result? A menu of mouth-watering dishes highlighted by a hot pot meal like no other. An incredibly satisfying meal that forges a new appreciation for traditional Chinese cooking.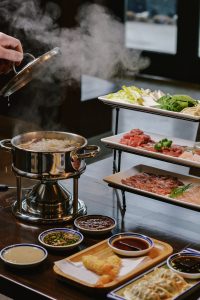 As diners sit down, they'll notice the attention to detail throughout the restaurant. From the rustic bench seating and traditional brass spoons to the handcrafted ingredients, 151 Days spares no effort. The highlight of the menu is the Coconut Soup Pot. A dinner experience designed to be shared between two people. Since good things take time, guests can expect to be dining for about an hour and a half. Yet, they'll be busy eating and drinking throughout the entire visit.
To start, 151 Days offers a full menu of specialty drinks such as the Seaberry (or Sha Ji) juice. A refreshing citrus-tasting berry doubling as a traditional Chinese medicinal remedy. It can improve coughs, strengthen the spleen, smooth digestion, and improve blood health.
Shortly after, the meal will begin with a selection of fresh appetizers. The crunchy Agedashi tofu is a gluten-free Japanese-style plate. A lightly fried tofu covered in Tsuyu sauce then topped with katsuobushi. The house's special tofu salad is a spicy sour mix of tofu, potato, and red radish tossed in a special sauce. The third plate is one of the best seaweed salads available. A wonderful mixture of fresh seaweed and bamboo, seasoned with chili oil.
Once diners finish their appetizers, the central dish will arrive. Farm-raised Bresse chicken meat and broth mixed with fresh coconut and seasonal mushrooms.  Served over a fondue burner, the Coconut Chicken Soup Pot is the pride and joy at 151 Days. 
Bresse (pronounced "bress") is the rarest and most delicious chicken in the world. Commercial chickens are continuously cross-bred to grow the largest birds in the shortest time.  The meat on these birds is very bland and requires a lot of spices and flavoring. Bresse, on the other hand, are a purebred lineage with a distinct meat-to-bone ratio and fat patterns. They're only raised in the French province of Bresse, eating the native greens and insects. Because of this, one could say, they're the champagne of chicken. Farmers raise Bresse under highly specific conditions to create their distinct flavor. They're fed a specific diet at different stages of their growth and must forage for their own protein. While commercial chickens are only given 40 to 60 days to grow in a small coupe, Bresse grows free-range for 120 to 151 days. Hence the name "151 Days". They're almost impossible to find anywhere other than France and sell for $50 each. However, their eggs can be found in other countries including the United States. 
Over the past two years, Joseph has found the best Bresse eggs available in the United States. Following French standard, he raised a flock of over 4,000 American Bresse in Arlington, WA. By next year, that number will grow to 10,000. The high processing standards for Bresse have been hard to meet in Washington. So he's decided to move the farm to Missouri where he'll receive help from some unlikely friends. The Amish community and their cultural values align beautifully with 151 Days' needs. The Amish don't use electricity, meaning their organic way of working by hand is perfect for a Bresse farm. Needless to say, Joseph is very grateful and excited for this partnership to begin.
It's due to these efforts that 151 Days is so proud of their Coconut Chicken Soup Pot. When the broth is first served, it's essential that guests taste its purest form. This is the true flavor of 151 Days Bresse chicken. With their soup, diners will also receive a large platter of Bresse breast & thigh, New York Angus steak, long-tail white shrimp, sole fish filet, amazing house-made noodles, fresh vegetables, and a selection of house sauces. Guests will place each side in the broth, one piece at a time, cooking them fondu-style with small forks. As the meal progresses, the broth develops new layers of flavor as they add ingredients. This is the heart of what makes this meal so unique. While guests enjoy the delicate sides, they taste how the broth's flavor changes over time.
For many, the Coconut Chicken Soup Pot and its delicious sides may be sufficient. Yet, it's only half of the entrée experience. Along with the soup, guests will receive three small entrée plates that perfectly accompany the fondu. They'll enjoy a bowl of creamy Tamagoyaki scrambled egg rice. A crispy tempura of their choosing, with options of shrimp, broccoli, or sweet potato. As well as pan-fried potstickers filled with broth, shrimp, and berkshire pork. 
Finally, to finish this incredible experience, is a light dessert worth dying for. Guests will receive a small bowl of dipping chocolate served with seasonal fruit, marshmallows, and one of the most delicious fried doughnuts imaginable. 
It's Joseph's goal to create the most handcraft-focused Chinese restaurant on the West Coast. The lengths he's willing to go, in order to do so, are impressive. After experiencing The Coconut Chicken Soup Pot meal, guests will agree that he's well on his way. 151 Days has done an amazing job designing a true dining experience that will leave diners planning their next visit before they leave the restaurant.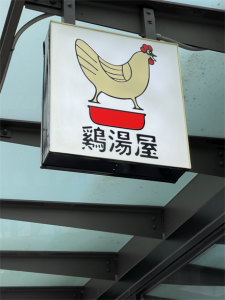 151 Days is located in Redmond, WA right next to the Microsoft campus and near K1 Indoor Go Karts. The legendary flavor of Bresse chicken, delicious Bresse broth potstickers, creamy mushroom soup, handcrafted noodles, and a large variety of other traditional Chinese dishes are available for you to experience. Seating nearly 130 customers, their spacious location is perfect for celebrations or a socially distanced dining experience. With a fantastic bar area, 151 Days is also a great place to experience a menu of unique Chinese beverages. And if you'd rather enjoy their cuisine in the comfort of home, they offer take-out through all the common delivery apps (Coconut Chicken Soup Pot only available in-house). 
The next time you're craving delicious Chinese food, we highly encourage you to visit 151 Days located at 2720 152nd Ave NE #150 in Redmond, WA. As you now see, no restaurant can claim farm-to-table status as proudly as them. The love and care they put into their cooking are almost as rare as Bresse itself. It's Joseph's hope that you'll experience the flavor of true chicken cooked in the most traditional Chinese methods on the West Coast. If chicken isn't your dish of choice, their menu also hosts a variety of beef, pork, and vegetarian plates that will electrify your taste buds. They are open seven days a week from 11:00 am to 3:00 pm for lunch and 5:00 pm to 9:00 pm for dinner. Visit 151 Days today, you won't be disappointed!