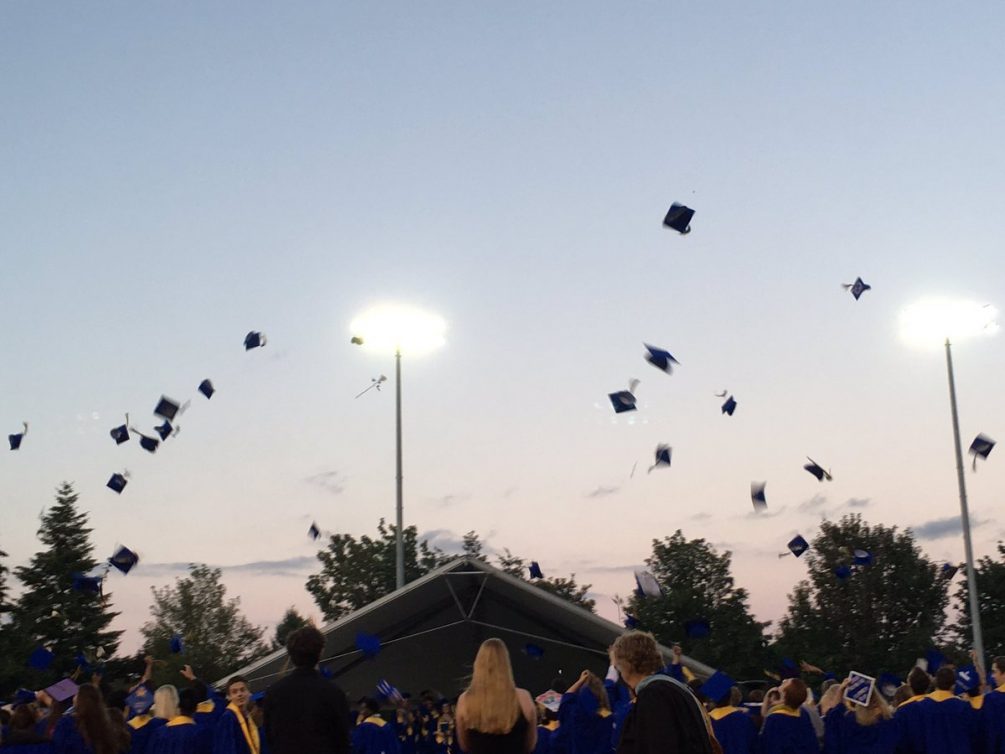 The field lights were on, the caps were up, and West Seattle High School's Class of 2018 graduates were off to their respective futures as their commencement ceremony concluded around sunset at Southwest Athletic Complex.
Student-body president Lillian Murphy welcomed all by declaring that "West Seattle is an awesome school for so many reasons."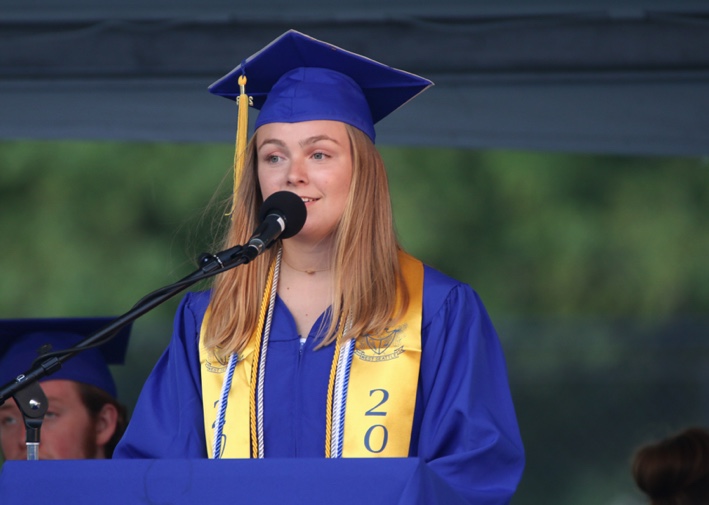 She cited three – a "generous, supportive community"; a staff from which there "always seems to be …someone in the building who has inspired us … to pursue our goals"; and her classmates, saying she has made friends she expects to keep for life. "I truly believe we are leaving as a unified class … I am excited for our future." This is the school's 100th graduating class, so her alma mater has a lot of past, too. And she brought that number back in a quote from Drake, "All I ever asked is keep it eight more than 92 with me, one hundred."
Next, the student-chosen faculty speaker, class adviser Sean Riley.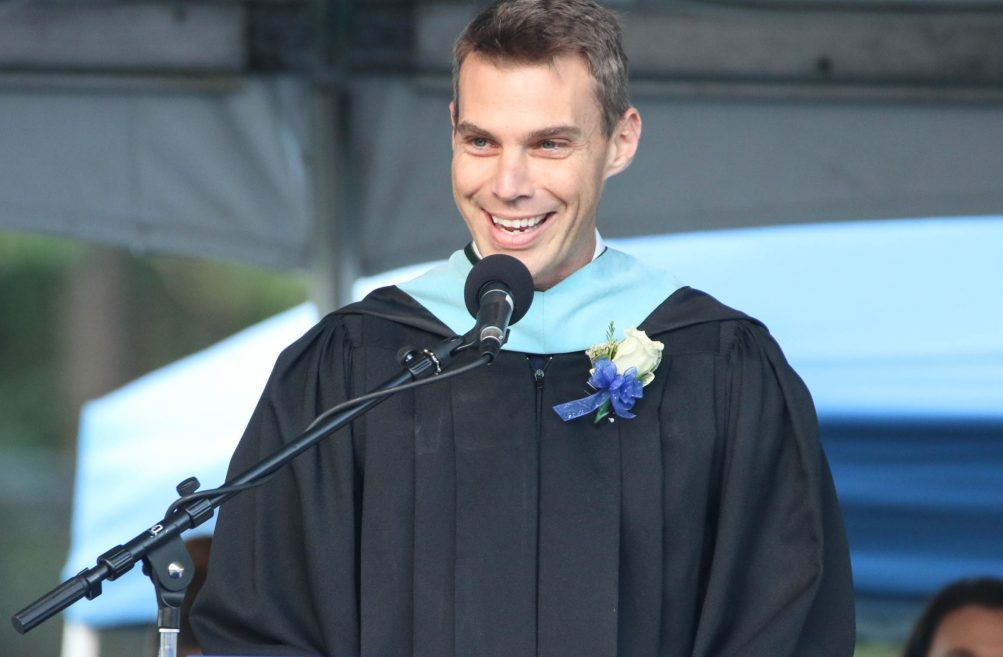 He hailed the grads for "arriving at this moment … of autonomy …Now you get to make your own laws, on how you get to live." He reminded them that they "do have powers," including zaniness, audacity, artistic vulnerability, physical majesty, resolve, and more. The seniors had thrived to "reach this moment of rich and ripe autonomy … it's the daily freedoms that build the only currency that matters … self-respect." On the freeway of life, they can pull over to ponder the joy of existence. From Mary Oliver's poem "Summer Day," he quoted the question, "What is it you plan to do with your wild and precious life?"
Valedictorian Madalyn Stewart spoke next.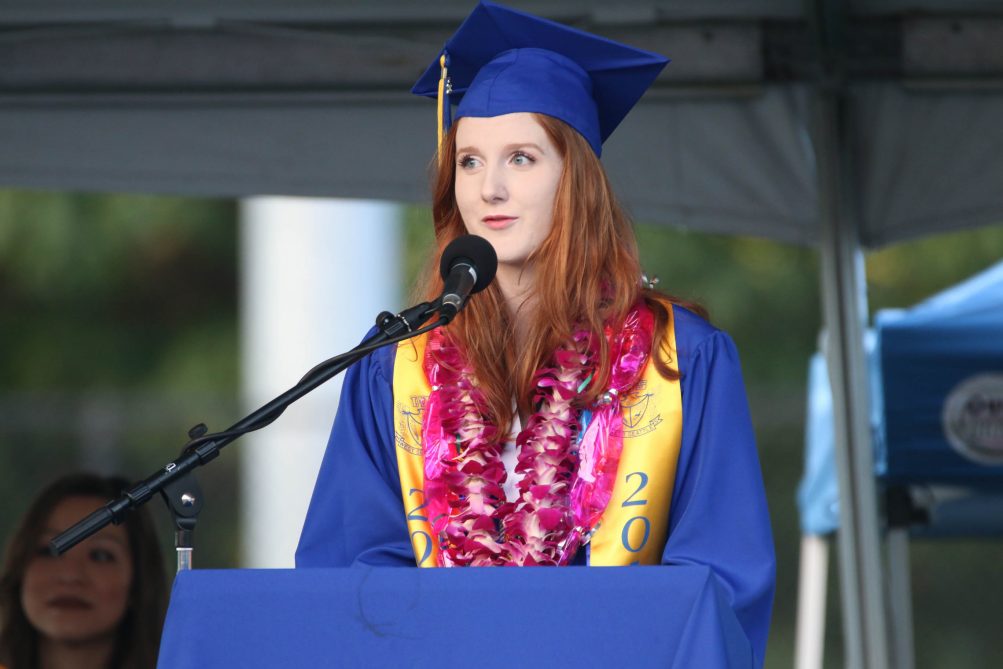 She acknowledged that "much of high school has been a blur," so, she said, it's vital to not take for granted "those who have been there for us" – family, friends, teachers, coaches. "It feels like those before us really didn't want us to have it easy," she said, while expressing confidence that her peers are ready to "change the world. … You will never meet a more bright, outspoken group of students. … We are the next doctors, actors, female presidents" – that drew cheers – "and more."
First-year principal Brian Vance then started what he called a new tradition:
First-year WSHS principal Brian Vance leads the graduation crowd in a cheer pic.twitter.com/o8VVS8BN0R

— West Seattle Blog (@westseattleblog) June 22, 2018
Not long after he led that spirited W, E, S, T, S, I, D, E cheer, Vance turned somber, with a tribute to Avery Scheit, a Class of 2018 member who died of a sudden illness in March, a young woman "who always will be remembered as a caring and loving friend." An empty chair had been placed in her honor, and a moment of silence was observed.
Declaring that his first WSHS graduating class had set a "new bar to reach' for those that will follow, Vance presented the class to West Seattle's school board rep, board president Leslie Harris (below right, entering the stadium with Vance and other faculty).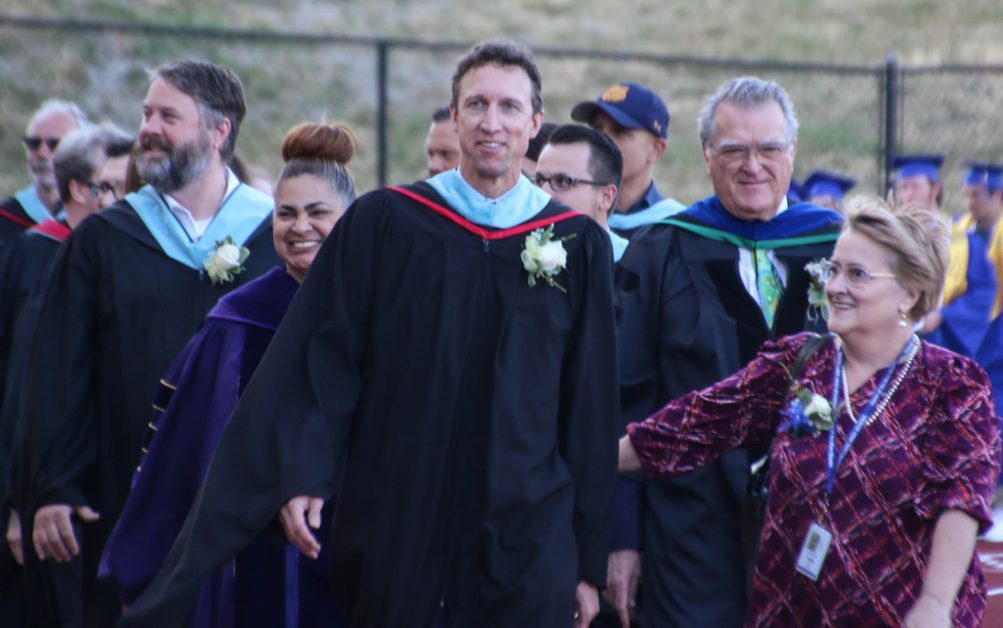 She advised them to "be kind, be fierce, be lifelong learners, come home and show us where you're going, because you guys are going to amazing places, and, last … vote. … You can change the world, and it needs changing."
With that, and with the principal's spirited, "Let's do this!" it was diploma time. But that didn't end the ceremony; the presentations were followed by Alec Maroon's "Lessons of Life" speech.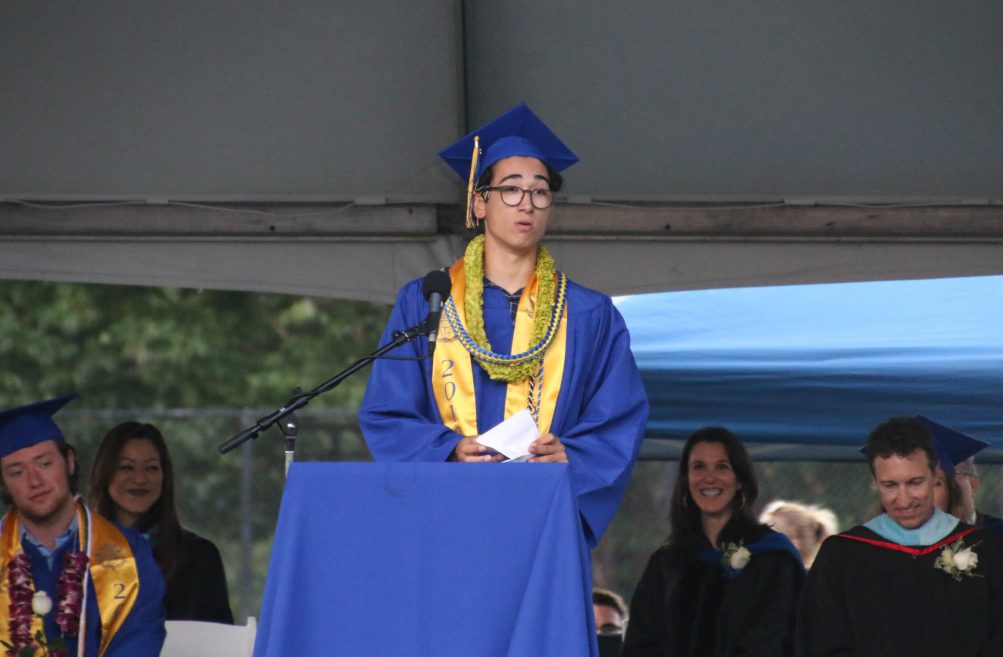 He wished everyone a Happy Solstice (summer arrived just after 3 am today) – "it's also the first day of the rest of our lives." He said the word "journey" informed his speech – "the journey that has brought us all here today, and that we will continue to go on tomorrow." Tomorrow will bring a new start, he added, also noting that kindness, respect, attitude are choices – and he quoted Maya Angelou, that people will never forget how you made them feel.
"All right people, we made it thus far, we might as well go out with a bang," began the performer who followed, Zoser Dunbar.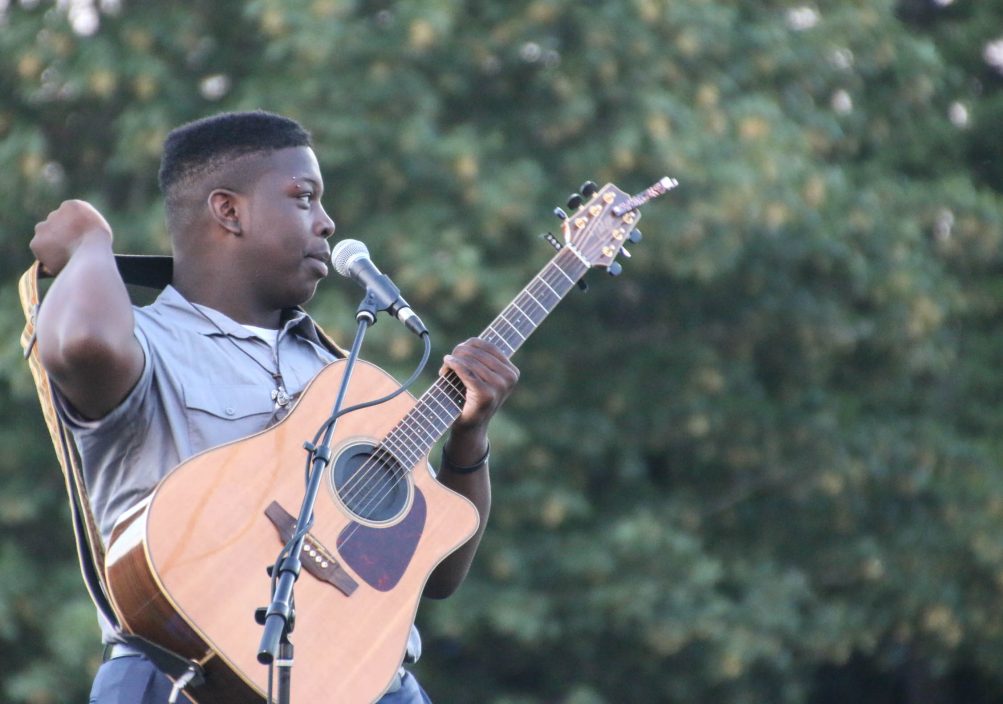 "Love can change the world in a moment, but what do I know," he sang, full of optimism, before the tassel-turning, and the school song.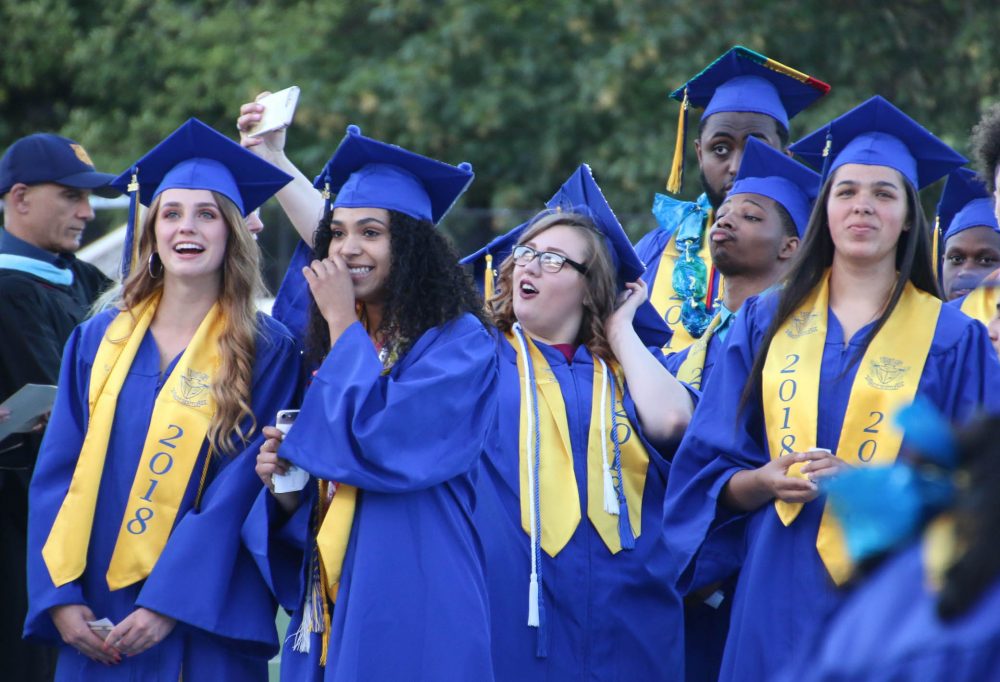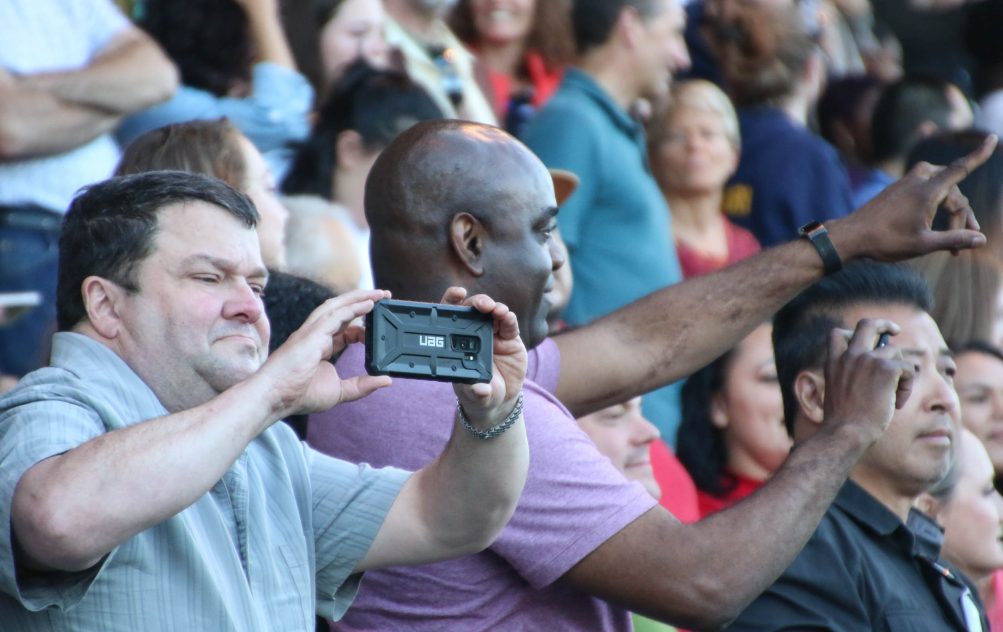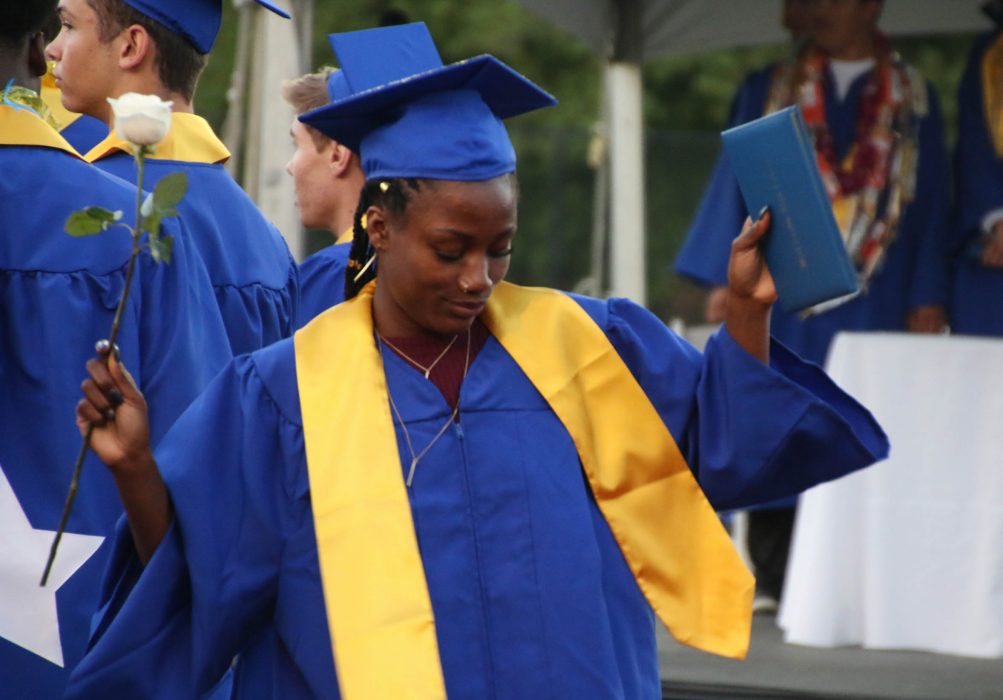 According to the program, this year's WSHS graduates number more than 240.