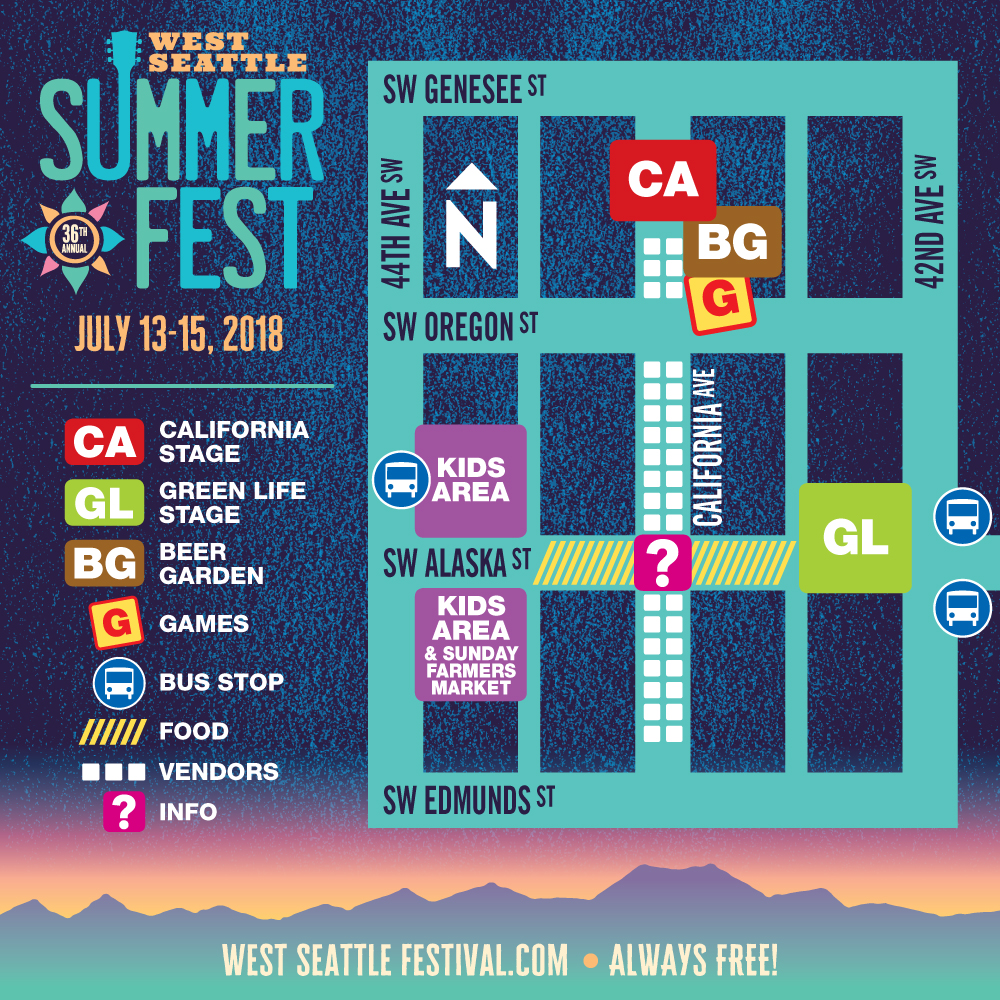 West Seattle Summer Fest 2018 is just a few days away! The streets in the heart of The Junction close at 4 pm Thursday for setup and Summer Fest Eve fun – then West Seattle's biggest party of the year starts at 10 am Friday. While the year-round Junction merchants, restaurants, and bars are the stars of the show – most with something extra during the festival (outdoor sales, sidewalk cafés, etc.) – 110+ visiting vendors (and organizations) will have booths too, and tonight, while the list is in the process of being added to the official Summer Fest website, we have the names (after the jump if you're reading from the WSB home page):
3-D Wood Maps
A Living Canvas Face Painting
A.O. Hamer
Airbrush Ink
Alaskan Way Viaduct Replacement Program (WSDOT)
Aletheia Creation
Apple Cox
Avalon Glassworks
Awesome Anime
B. Fuller's Mortar & Pestle
Bad Bee Jewelry
Bath Fitter
BeMused Creations
Bhu Namdol
Bodhi Silver
Brendan Fuller Ceramics
C2K Design
Camp Crockett
Caramel Kitchen
Champion Windows
Chayo Ceramics
Club Sunglass
Creature Comforts
Crescent Moon Designs
Culture Cross
Dave Ryan Pop Art
E F Lester Unlimited
Elysium Jewelry
EnviroIssues
Face Paint Seattle
Factory 43
Foamy Wader
For the Love of Pasta
Freeborn Metal Art
Freedom Snacks Gourmet Popcorn
Friday Harbor House Of Jerky
From The Mind Of Greg Delaney
From Where I See It
Fuzzy Ink
GoodMed Direct Primary Care
Gustoblende
Gutter Helmet
Hatterdashery
Highline Bears
Hung Pham Art
Imps and Monsters
Indian Arts
Jennifer Forland Designs
Jesse link fine art
Jill Griffin Jewelry
Jon Wye
Just Plate Crazy
Kitchen Plus
KlapnKlip Soy Candles
Kneehighs n pigtails
Lhasa Trade
Lichenology
Lika Love
Little Green
Love That Image
Lucky Old Sun
Mariposa Jewelry Works
MayhemHere Art
Meeples Games
Meghan's Mehndi: Henna Body Art
Mehndi Madness Inc
Mertha Shop
Mishu
Mistura Timepieces
Mud Bay
New Country Bonsai
Normiehead
Northern Outpost
Northwest Sales
NW Wind Spinners
Olive Branch Natural Body Care
ORANJ Screen Printing & Graphic Design
Over the line Art
Owens Gardens
Pacari
Penguina Designs
RainDance Soaps
Rebekah J. Designs
Retro Pop Namu
Revival Ink
Riley's Spice of Life
Rise & Shine/Ashanti Mosby
Rusty Stuff
Sabrina Shane Co.
Sarah Meradna
ShelfGenie
Shipwreck Apiaries
Simple Brilliance
SimplyQwirky Flowers
Sires Crown
Smith Brothers Farms
SQUATCH Industries
Sub Pop
Sumac El Sol Handcrafted Textile Arts
Sweetpea & Boy
T. M. Originals
Tangerine Jewelry Shop
The African Village
The Dogfather
The House of Silver and Gold
The World's Fossils & Minerals
TomboyX
Totally Blown Glassworks
Ugly Yellow House
Unusual Cards
Urban Soule
Usborne Books & More
Uzura
West Seattle Rolfing
Zambalha
Official Summer Fest vendor hours are 10 am-6 pm Friday and Saturday (music and beer garden runs later those nights), 11 am-5 pm Sunday. Scroll through this WSB archive for the other previews we've published already!