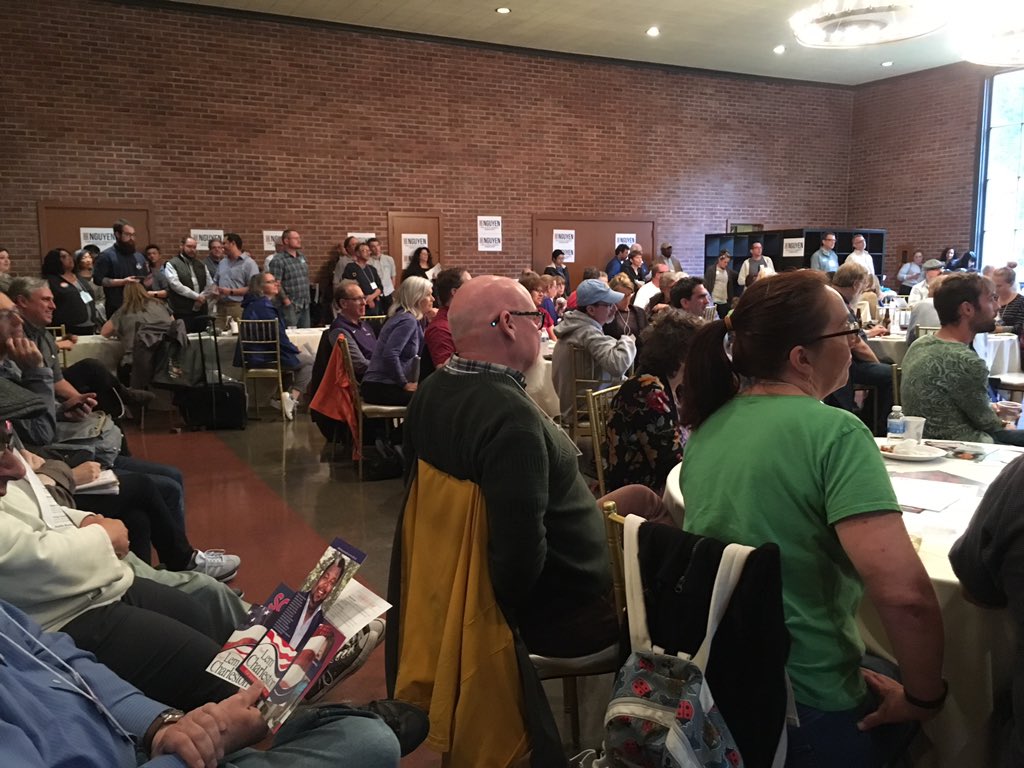 (Standing-room crowd at 34th District Democrats just before State Senate endorsement vote)
By Tracy Record
West Seattle Blog editor
The endorsement for the open 34th District State Senate seat was the big news from this month's meeting of the 34th District Democrats, just concluded at The Hall at Fauntleroy.
The result, on a second ballot, was a dual endorsement of Shannon Braddock and Joe Nguyen, who tied at 62 votes each in the runoff; she had led the first round with 57 votes – not enough for a sole endorsement – and he was in second with 39 votes,
We'll add video highlights later (10:38 pm update – first ones added below), but first, here's how the nomination process – including more than an hour of vote-counting – unfolded:
34TH DISTRICT STATE SENATE ENDORSEMENT: Among the prerequisites for endorsement consideration by the group, the candidate has to be a Democrat, and has to have filled out the King County Democrats' questionnaire. Candidates nominated for consideration besides Braddock and Nguyen were Sofia Aragon, Lois Schipper, and Lem Charleston.
Aragon spoke first and noted her concern about the affordable-housing crisis and access to higher education. Schipper, speaking next, said "putting families and children first" is her priority – keeping them out of homelessness and hunger – and education funding is her next priority, followed by firearms safety (including a ban on assault weapons). Nguyen said he's running because "all families should have the opportunity to achieve the American dream." He also sees "health care for all" as a priority, talking about a family crisis when a crash left his father a quadriplegic. Then, Braddock, whose nominator called her "a woman of action"; the candidate herself said, "We have a lot of good progressive Democrats in this case" but she believes she "stands above" because of her perspective and background, including being a single mom and community volunteer, and coalition builder. "I am experienced, I am ready on day one." Final candidate to speak was Charleston, who touted his background including having been in the US Marine Corps, having been a pastor, and serving as a police chaplain. "I want to bring (my) energy and passion" to the district's issues – he sees unhappiness both in rich waterfront residents and poor homeless residents. (Updated Thursday morning, 11:11 am – video of all five making their cases pre-vote – replacing previous clip that had stopped before 5th speaker Lem Charleston)
In all, 11 candidates are scheduled to be on the August primary ballot for this position (as reported here last month).
Also at the meeting:
ANOTHER STATE SENATE CANDIDATE: Annabel Quintero, another of the State Senate candidates, spoke while the votes were being counted; she hadn't filled out the questionnaire so she wasn't eligible for consideration.
ENDORSED BALLOT MEASURES: I-1631 was endorsed. So was signature gathering for I-1644, and for I-1639.
ENDORSED SLATE: The group began its endorsement consideration with a slate including Sen. Maria Cantwell, Rep. Pramila Jayapal, the two unopposed 34th Dist. Reps. Eileen Cody and Joe Fitzgibbon and eight judges.
PROSECUTOR ENDORSEMENT TABLED: Daron Morris, a candidate for King County Prosecuting Attorney, spoke to the group. Speaking in favor of his opponent, newly self-declared Democrat incumbent Dan Satterberg, was County Executive Dow Constantine, who said Satterberg has been "the leader at King County in transforming our justice system." He added, "We should not be endorsing someone to run against him – he's doing a really good job." Ultimately the endorsement consideration was tabled until next month's meeting since Satterberg himself hadn't asked for it.
WHY THE ENDORSEMENTS MATTER: Chair David Ginsberg said he's worried since 33 percent of 34th District voters identify as Democrats, 10 percent as Republicans, and so far 7 Democrat candidates are running for State Senate, 2 Republicans, and if those percentages were evenly split, "we could wind up with 2 Republicans on the ballot." Voters will look to the 34th DDs' decision for guidance, he said.
PRIDE MONTH: King County Council Chair Joe McDermott spoke about its importance while the State Senate endorsement votes were being counted.
COUNTY EXECUTIVE: Constantine – before his pro-Satterberg speech – was invited up to the microphone too. He observed that the Seattle head-tax repeal had made for an "interesting period in municipal politics" and promised "a lot of breaking news in the next few days" on the homelessness front.
GARDEN PARTY: This year's benefit is 7 pm July 19th at The Hall at Fauntleroy. Tickets are on sale online.
PCO OF THE YEAR: Annie Phillips, "a force to be reckoned with," was given an award as PCO of the Year.
MEMBERSHIP: The group currently has 360 members; last year, it was as high as 600. Just under a third of the membership was present and voting in the night's marquee endorsement race.
NEXT MEETING: The 34th District Democrats meet on second Wednesdays at 7 pm at The Hall at Fauntleroy; watch 34dems.org for updates between meetings.