For many, there's nothing like hitting the road in the car you love, especially in the pandemic. As bars, restaurants, and other favorite gathering places have temporarily closed their doors or shuttered, cars remain a source of freedom and simple pleasure.
Whether you're taking a road trip down the coast, dropping your kids off at school, commuting into the city for work or heading to the ocean for the day, so many people love the feeling of freedom a car brings. There's a sense that you can go anywhere and do anything, when you want, with nothing standing in your way.
Rich Little, owner and founder of Bel-Red Auto Rebuild in Bellevue, Washington, has always loved driving cars and how cars look; nowadays he especially loves the technology in cars. Passionate about cars from a young age growing up right here in Bellevue, Little enjoyed fixing cars and specifically restoring old cars in high school. Since his first restoration of a 1967 Fastback Mustang, he has worked on many different restoration projects for himself and customers in the shop.
For some vintage car enthusiasts, old cars can keep the past alive by representing a little piece of history. Others love the artistry and personality, the driving experience, and the exclusivity of these cars.
"I like working on older cars because the customers truly appreciate their vehicles and want them to look nice again," Little says. "Fixing an old car and putting it back on the road is just really cool."
In high school, Little went to work for a body shop where he eventually started painting cars. Ten years later, he had saved up enough money to buy his own shop and Bel-Red Auto Rebuild was born.
Restoring old cars may be Little's biggest passion, but Bel-Red's scope is much wider than just restoration work. "Our bread and butter is doing collision repair," He says. "We repair around 300 cars a month."
Focusing on all types of collision, bodywork, and paint repair, Bel-Red works on all makes and models of cars but specializes in luxury cars. On any given day, you might see a range of cars in the shop from Toyotas to Audis to Lamborghinis. "We do some pretty crazy repairs on some pretty crazy cars," Little says. One of their most expensive ever repairs came in at $400,000, so you can imagine how much the car they were repairing cost.
Regardless of the type of car, it's all about the customers and their needs.
At Bel-Red, customers come first
For Little, the customers are the most important thing. "My main goal is to make sure I have the best customer service possible. Without customers, I have nothing," He says.
Customers commonly share that working with Bel-Red is a breath of fresh air — a friendly, no-pressure experience with people who really care about cars and know what they're talking about. "These guys do great work and stand behind the work their people do," Chris H. shares about his experience on Yelp. "I wish I had more cars to take them to [Rich]," Joey writes.
The customer experience is key in an industry where customers are most often coming in after having a negative experience – likely a car accident and a haggle with their insurance company. Bel-Red Auto Rebuild does their best to create the most positive experience possible in the midst of a situation that no one wants to be in.
Relying on Superior Materials
You won't find Bel-Red cutting any corners on supplies and materials. They use Glasurit, a traditional, high-quality paint, and work with insurance companies to make sure you get OEM factory parts rather than the cheap aftermarket parts insurance companies often want to use.
"I've been using Glasurit from when I was a painter when I first started in the industry," Little says. "I bought the shop and converted it to a Glasurit shop. They stand by their product and you can't ask for a better product."
Working differently than other auto-repair shops
Getting into a car accident can range from frazzling to terrifying, but the last thing you need after a collision is a difficult insurance and repair process.
"Most people come into the body shop having had a bad experience. They were just involved in an accident, then they call their insurance company thinking that the insurance company is going to be on their side because they're supposed to look out for us, the people. But they find out that they're not. We don't do that. We fight to make sure we're getting the OEM factory parts and we're making sure that the customer's car is put back to the way it should be. So when they go to sell it, there's not going to be an issue," Little explains.
Many auto-repair shops work for your insurance company – not for you
Commonly, insurance companies will funnel repair work to shops where they can control the repair the entire time. Since insurance companies want to charge a lot of money and pay out as little as possible, they'll do things like use aftermarket or used parts, or not fix things properly to cut corners.
"Insurance companies don't care about anything but trying to repair things as cheap as possible and hiring people who don't have a clue about how to repair cars. They're solely looking out to save money," Little says.
Some insurance companies may try to steer you away from choosing your own repair shop, but your right to take your car to the repair shop of your choice is protected through the Insurance Commission of the State of Washington. Insurance companies cannot tell you where to take your car for repair, and usually taking your car to their direct repair shops isn't in your best interest.
"Insurance companies have a vested interest in the body shops they're affiliated with," Little explains. "When you take them to [one of those shops], they get to decide how your vehicle will be repaired and what types of parts will be used to do whatever meets their needs. They're not interested in fixing the car for you so you can resell it properly."
But Little's shop isn't an insurance-driven shop. "We're a small family company that takes pride in fixing cars the way they're supposed to be fixed," He says. "We work with insurance companies, not for them. We work for the customer."
That means Little and his team fight your insurance company to get the right parts and products approved for your vehicle – and it's not always easy. Often, adjusters for insurance companies are untrained and uneducated, so they miss a lot.
"Car repair has evolved in the repair procedures, but as far as insurance relations with body shops, this trade hasn't evolved since the 70s," he adds.
The repair process at Bel-Red
When bringing your car in for collision repair, the first step is an initial estimate. Before doing any work, one of Bel-Red's I-Car Certified Estimators will do a complete damage estimate and explain all the required repairs, estimated costs, and delivery date.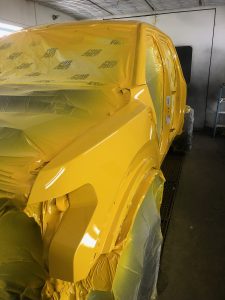 Next, new parts are installed and damaged parts are repaired – the way they're supposed to be. Bodywork could include dent repair, surface restoration, and body panel
alignment. Some cars might also get wheel alignments, glass repairs, and paintless dent removal.
After the bodywork is done, Bel-Red's paint shop takes over. They start by removing the original layers of paint and cleaning, sanding, and priming the repaired area. When the area is ready, a professional painter will apply the best quality Glasurit out there and treat your car to a durable clear coat to protect and restore your car's original new car shine.
The last step of the process is detail and quality control. The Bel-Red team buffs and polishes exteriors to remove any dirt or blemishes left and finishes all panels adjacent to the repaired area. Your car will be returned to you after an exterior hand wash, wheel wash, and interior detailing including vacuuming, dust and lint removal, and window washing.
"It takes a great team of employees working here that really care about the customers and the cars to be repaired properly in the best, most timely possible manner," Little says. He couldn't do it without them.
And as for the future? For Bel-Red Auto Rebuild, the future is about continuing to try to provide the best customer service humanly possible and continuing to fix cars the way they're supposed to be fixed.