We've covered LOTS of new developments over the years, and a high-density apartment proposal (.pdf) along Fremont Ave. is one of the most controversial we've seen. The city has received enough petition signatures to schedule a public hearing for later this month — a rather rare occurrence.
We first reported on the 3-story, 32-unit apartment proposal for 3959 Fremont Ave. N — across from BF Day School — back in February. Neighbors deluged the city in letters and petition signatures, created a blog and landed a opinion piece in the Seattle Times.
Since then, the developer has made some revisions — such as keeping and improving the pedestrian stairway from Fremont Ave. — but neighbors say their primary concern has yet to be met. Since the property is elevated above Fremont Ave., the entrance is positioned in the residential alleyway behind the apartment. Neighbors are concerned about the increase in traffic in the alley, especially in such close proximity to the school.
Here's a view of the alley from Google street view a few years ago: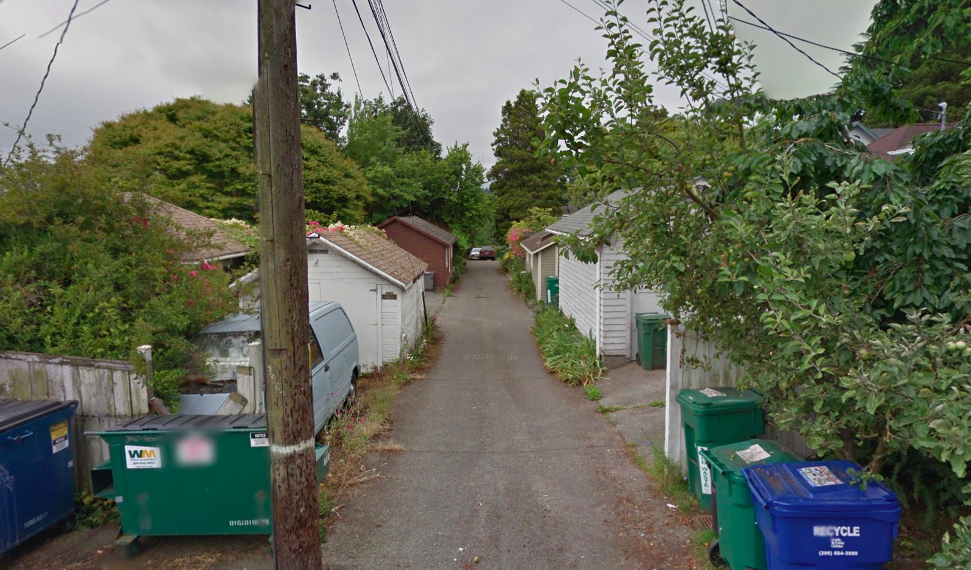 The city has set a hearing for June 26th from 6:30 to 8 p.m. at the Good Shepherd Center, 4649 Sunnyside Ave N, Room 202.
"Let's plan to converge on this meeting in force to give the city an earful," explains the Friends of Upper Fremont blog. "Now the city is going to have to listen to what we have to say."